The Globe and Mail
South of France River Cruise
— JUNE 20 - JUNE 30, 2020 —
World-renowned chefs and
rich culture await you in the sun-soaked South of France
The Globe and Mail invites you to join us on our sixth cruise being offered by Scenic, The Globe and Mail French River Cruise – Explore the changing food, wine and culture of southern France. An elegant ride along the gentle Rhône and Saône rivers, the 11-day trip will take you to some of southern France's most captivating locales. The Globe and Mail has partnered with Scenic to create a one-of-a kind river cruise, that delivers the classic charms of the historic, beloved Southern France region, an insider's look at how French foods and wine are evolving in the 21st century and unique access to our award-winning journalists.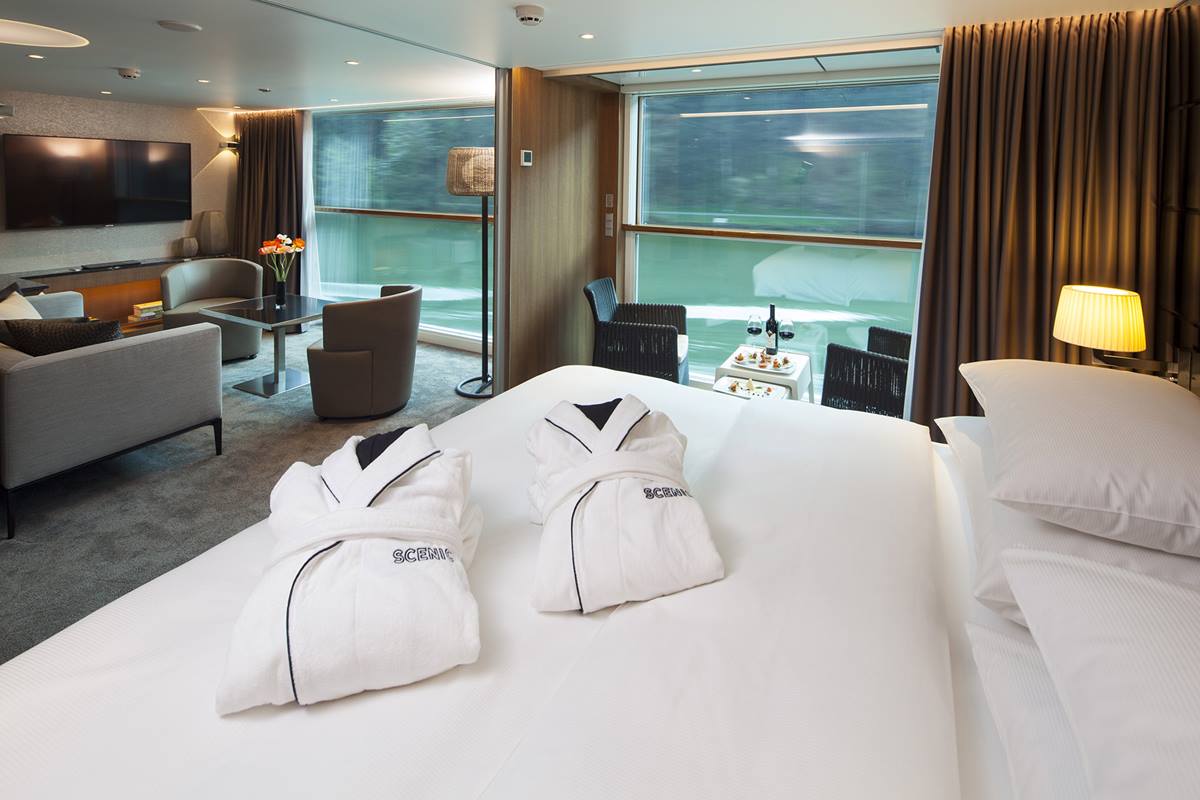 Choose from three well-appointed suite options: Royal, Panorama and Owner's suites, which offer the ultimate in spaciousness and comfort.
Take in stunning surroundings from the the Scenic Sapphire Ship, where you'll enjoy 5-star accommodations, relaxation and exquisite onboard restaurants
This trip will take you from Paris to Nice, along the Rhône river, with fascinating daily excursions.
Gain unparalleled access to the our award-winning journalists
Be invigorated by immersing yourself in current events with The Globe's award-winning journalists, editors and columnists – including our European-based team and food & wine experts. They will provide insights into the stories behind the stories and their investigative process, and offer candid and unique perspectives on the most pressing issues in Europe and beyond.
Phillip Crawley
Publisher and CEO
David Walmsley
Editor-in-Chief
Tara O'Brady
Pursuits Columnist & Food Writer
Featuring Onboard Journalists
The Globe and Mail is thrilled to partner with a river cruise leader, Scenic Luxury Cruises and Tours
This tour is provided by award-winning Scenic, the ultimate in luxury river cruising, with over twenty years of touring experience. Working in partnership with The Globe, they've thought of every handpicked detail to deliver wonder and delight every day of your journey on The Globe and Mail South of France River Cruise.
CULINARY EXCELLENCE
Forage truffles, visit master chocolatiers, welcome Michelin-starred chefs, and dine in restaurants hand-picked for you.
LUXURY SUITE & BUTLER SERVICE
With thoughtfully appointed rooms and the attentive service of a personal butler, every details has been considered onboard.
UNIQUE EXPERIENCES
The South of France cruise itinerary is the result of exhaustive research and care; each aspect has been chosen, or created, to surpass expectation.
EXCLUSIVE WINES
Enhanced winery experiences, vineyard visits, and comprehensive tastings will be complemented by an exemplary wine list onboard, unique to us.
IMMERSIVE CULTURE
With both a Globe journalist and a guide on tours, gain an insider's perspective and a deeper appreciation for the heritage and history of the country.
Discover Exclusive Wines and Culinary Excellence

Immerse yourself in a range of five-star dining experiences. With regular wine tastings and food discussions, you can further develop your own palette and pairings.


— F E A T U R I N G C U L I N A R Y H O S T —
TARA O'BRADY
As our food writer and culinary host, Tara will lead seminars, explain cooking traditions and techniques, and highlight the particularities of regional cooking traditions, local specialties and ingredients.
DON'T MISS OUT—BOOK YOUR CRUISE TODAY!